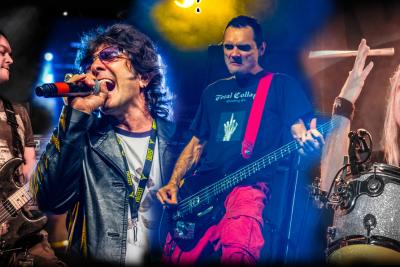 Booking Contact
Thomas Pieper | tp@we-live.agency
This Artist is represented in cooperation and in conjunction with BTE, Inc. (Bigg Time Entertainment, Inc.) – Los Angeles, California USA
From the back alleys of Hollywood to World Stages, this is the story of XYZ:

Sunset Boulevard, summer of 1984. The party of the decade spills onto the streets, as tens of thousands of rebellious teens flock to Los Angeles to partake in sex, drugs, and rock'n'roll.

Perfect time for Pat Fontaine (bass) and Terry Ilous (vocals) fresh from Europe, to unite with Marc Diglio (guitar) and Paul Monroe (drums), both transplants from NYC. Together they start the long and slow climb thru every dive bar and seedy club, recruiting just a few fans at a time...to eventually reach the Whisky a GoGo, the Roxy, the Troubadour, selling out week after week, month after month, and finally inking a major record deal with Enigma in 1989, swept up by Capitol-EMI in 1990.

Virtuoso guitars tangled in blues overtone and topped by a warm and powerful voice, XYZ's music speaks of late night drinking and love affairs gone wrong. The first album, produced by Don Dokken, titled XYZ explodes onto radio and MTV starting at number 99 on the Billboard charts. First single, "Inside Out" becomes the most requested song on LA's iconic radio station KNAC, as covers of magazines become routine, Metal Edge, RIP, Burn, Hit Parader, Kerrang.

Live appearances on MTV's Headbanger's Ball propulses the first video to the top 10. A second video ("What Keeps Me Loving You") comes along for the release of the anticipated second single.

Major tours followed with Ted Nugent, Alice Cooper, Dokken. Clubs turn into theaters and theaters turn into arenas. The party rages on with the second album "Hungry" released in 1991. "Face Down In the Gutter" is brought into heavy rotation on MTV via a stunning and controversial video by director Michael Bay (The Rock, Pearl Harbor, Transformers).

A US tour with Foreigner, a festival package with Cheap Trick, and a run of shows with Ozzy Osbourne ensued.

But a storm was brewing and 1992 saw the grunge movement come from the cold north to freeze Hollywood to its very core. XYZ shared stages with Soundgarden and Alice In Chains, but a cultural change was taking place and over night it seems the champagne stopped flowing. Marc Diglio and Paul Monroe departed to be replaced by current members Tony Marcus from New Jersey and Joe Shapiro from Colorado.

A yearlong US club tour followed but little by little the party atmosphere of the 80's faded out of fashion, and most Hollywood bands of that era were forced into hibernation. Sunset boulevard went dark. And silent.

Nevertheless the band maintained and even expanded its cult-like following as years came and went, while various musical projects kept the guys in the band busy. It took the emergence of the Rocklahoma festival in 2007 to bring Hard-Rock and Hair-Metal back into the light, and to cement XYZ yet again. Opening for Twisted Sister on a US festival circuit, and then off to headline their own European tour in 2010, Sweden, Belgium, England, France, Germany, Switzerland, Italy, Spain, it seems the metal wheels were turning once again.

A younger generation was discovering the music of the 80's and embracing it. Fun was back!

From 2012 to this day, Monsters Of Rock Cruises became the new winter home for XYZ and he band is currently writing new material for an upcoming album to be released in 2019.

Original singer, original bassist, with the same line up since 1992, more than 25 years under the hood, and 2 million records sold worldwide, the open road awaits.