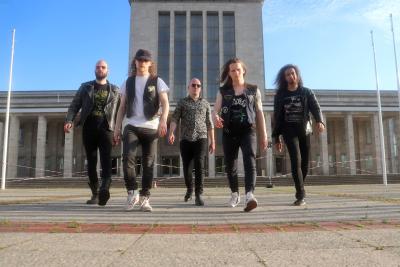 Booking Contact
Thomas Pieper | thomas@we-live.agency
If you haven't heard of TYLER LEADS yet, you should give this band a try as soon as possible. For over 5 years this sweaty neck roller has been on the road in the German rock and metal scene and in Europe.
HANK VON HELL, UGLY KID JOE, THUNDERMOTHER, SATAN. All bands that were already allowed on stage after the guys. Infected by the manic live spectacle, witnesses report ecstatically about the quintet. At cult festivals like HELLFEST(Fr), ROCKHARD or the DONG OPEN AIR the beer-heavy audience was seduced by the cocaine obelixes from the tents into the pit.
If one may believe the scene press, the live energy bunch managed to capture their clapping, groovy fulminance on record. So with the STAY UGLY EP (2017) and the current album PLANETARY MOVEMENT (2022), you can torch a passionate heavy rock inferno in your living room at home.
The love of their fans is the fuel in the engine of the riff machine TYLER LEADS. PLANETARY MOVEMENT was a wish child and was conceived by the band and fans with the help of a crowdfunding campaign that gave the world 10 songs with 10 music videos.
A delirious adventure that lets listeners feel the familiar, beer-soaked, sweaty embrace of a trusted acquaintance only to catapult them and into interstellar spheres you may never want to leave. The perfect evening program to illuminate the waiting time until the next gig of the Zlatan Ibrahimovic of the hard rock scene.