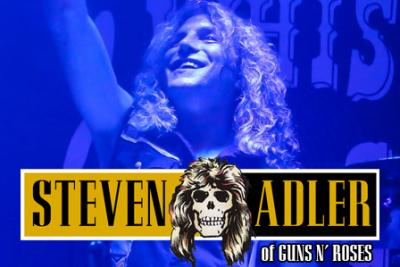 Booking Contact
Bernd Wilbert | bw@we-live.agency
This Artist is represented in cooperation and in conjunction with BTE, Inc. (Bigg Time Entertainment, Inc.) – Los Angeles, California USA
Steven Adler, best known as the founding drummer of "GUNS N' ROSES", one of the most influential, groundbreaking hard rock bands to emerge from the late-80′s L.A. hard rock scene, has returned to pick up where he left off with his re-energized line up of musicians.

GN'R's debut album, "APPETITE FOR DESTRUCTION," which features Adler's signature groove, will forever be considered one of the greatest rock albums ever made. Adler also recorded the album "GN'R LIES" and the track "Civil War" on the album "USE YOUR ILLUSION 2."

In July of 2010 Steven released his tell-all biography "My Appetite For Destruction — Sex, Drugs and Guns N' Roses". The book quickly became a New York Times Bestseller. In 2012 GUNS N' ROSES were inducted into the Rock And Roll Hall Of Fame, with over 100 million records sold Steven is considered one of rock's most legendary and recognizable drummers.