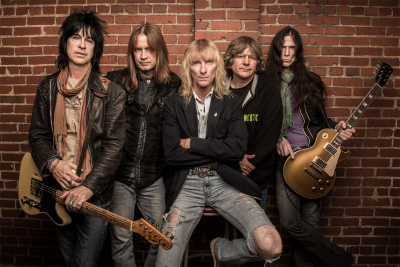 Booking Contact
Bernd Wilbert | bw@we-live.agency
This Artist is represented in cooperation and in conjunction with BTE, Inc. (Bigg Time Entertainment, Inc.) – Los Angeles, California USA
KIX reformed in late 2003 without songwriter and band leader Purnell. KIX then lined-up shows for September 2004, the lineup consisting of Steve Whiteman (lead vocals), Ronnie "10/10" Younkins (guitars), Brian "Damage" Forsythe (guitars), Jimmy "Chocolate" Chalfant (drums, backing vocals), and Funny Money bassist/vocalist/songwriter Mark Schenker in place of Donnie Purnell.
In 2014, KIX Rock Your Face Off was released on Loud & Proud Records. It debuted at #49 on the Billboard Top 200 (the band's second highest-charting record after 1988's Blow My Fuse), debuted at #1 on Amazon Hard Rock and remained there for more than three weeks. It was well received by fans and critics alike. The prominent hard rock webzine Sleaze Roxx published that Rock Your Face Off was awarded #1 in the Top Ten Albums of 2014 by editors and staff as well as #1 in Top Ten Albums of 2014 in the Sleaze Roxx Reader's Poll. The first time in the web site's history that an album has taken the top spot in both categories. Stereogum.com chose Rock Your Face Off as Album of the Week with high praise saying "...all of it is delirious and catchy, and it proudly flaunts its out-of-fashion party-hard spirit. It's glittering trash, made by guys in their fifties who probably hold down day jobs these days and who have no business making this vigorous and fun anymore. Its mere existence is an inspirational thing, and it's a reminder that sometimes exploring new musical space isn't the most important thing. Sometimes, songs are the most important thing."[7]
On September 21, 2018, exactly 30 years after the original Blow My Fuse album was released, KIX re-issued a 2 CD anniversary edition set: Fuse 30 Reblown – 30th Anniversary Special Edition. Current bassist Mark Schenker tapped legendary producer Beau Hill (Alice Cooper, Ratt, Europe, Warrant) to remix Blow My Fuse from the original 24 track recordings. Hill had previously worked with KIX on its 1985 album, Midnite Dynamite. Fuse 30 Reblown is the brainchild and original concept of Schenker, who with help from veteran record executive Madelyn Scarpulla, was able to obtain digital transfers from the original analog master recording reels and put them in the expert hands and ears of Beau Hill. Schenker was also instrumental in rescuing the original 8-track demo reels from the trash heap when guitarist Ronnie Younkins found them in some old plastic storage bins in his barn. He offered them to Schenker for safe keeping over ten years before the inception of Fuse 30 Reblown. While Hill worked his legendary magic on remixing the original recordings, Schenker was able to digitally enhance and rescue the original 2-track demos to show the true greatness of the original recordings and insisted on their inclusion in the Fuse 30 Reblown package. The website Metalnation.com reported "Hill does a masterful job on Fuse 30, bringing the album into the new millennium without taking away from eclectic elements and raucous energy that made the original so memorable. Jay Frigoletto (Alice in Chains, Tesla) came in to master the album, adding the perfect finishing touch. It is a difficult proposition messing with an album of near perfection, but three decades later Blow My Fuse is reignited and more powerful than ever. For die-hard fans, the band even added a second disc of the 10 demo recordings for each track on the album.