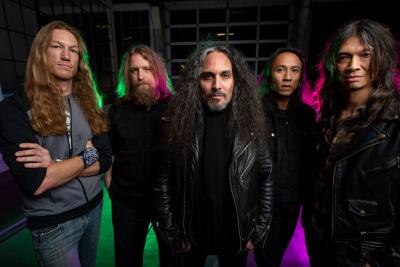 Booking Contact
Thomas Pieper | thomas@we-live.agency
This Artist is represented in cooperation and in conjunction with Doomstar Bookings
Ascending from the depths, the almighty DEATH ANGEL return to offer their latest, energy fueled masterpiece: »Humanicide.« A return to the wolves alongside a survivalist pack mentality are what fuel the powerful themes erupting from these fresh metal anthems. In a modern capitalist society where selfishness reigns and communal help and survival are things of the past, DEATH ANGEL produces sounds and symbols that point out the truths of attempting to exist safely in the present day. The title itself describes a plain in which humans, after generations of violence, regression, and hate, have finally extinguished themselves into dust. The wasteland they left behind is populated only by those creatures that passionately depend on their pack for survival: the wolves. Gnashing their teeth and struggling to survive in an abandoned world, the wolves are back and galloping fiercely across the cover of the album. Adorned in the war skins of their enemies and the creatures they've killed together in order to survive, the powerful messages of the songs can be seen in Brent Elliott White's fantastic piece of art.
Much like the beasts on the album cover, the writing process for DEATH ANGEL has remained airtight and continued to amplify throughout the years. The fundamental structures of the songs are created, and it's through the ultimate feel of these vibrations that emotions and lyrics eventually begin to adhere themselves to specific sounds. The songs are then massaged and encouraged until a complete record is conceived. "I have a system as far as songwriting goes," explains guitarist Rob Cavestany, "I've just sort of evolved to what works best for me these days. It starts with riffs and various ideas I've compiled as I feel creative here and there, lots of notes; musical, lyrical, conceptual you name it. I start it out, catch a vibe, see what I like, and just start crafting away. By the time I give skeletons of songs to Mark to work on vocals, they're pretty close to what they're gonna be. If I really feel strongly about something I'll write the lyrics to the song. After creating the initial demo of a song at my home studio (Spiderville in Oakland) then I get together with Will to work on beats & grooves and record live drums. Then, record Damien who comes up with most of his own bass lines. After that is when Mark gets the 'demo tape' to work out lyrics. All this is part of 'pre-production' that I do myself before the producer even hears a note. Then we do it all over again including Ted throwing in some solos of his own. It's an old school process of recording demos as a 'rough draft' and making the appropriate improvements on the actual album." After so many decades in the game, it's no surprise this band has crafted a songwriting technique that still requires sweat, blood, and tears, but that is entirely efficient. "Absolute trust," says singer Mark Osegueda, "we've grown, and there's a duality to our respect… we've become tighter than ever as writing partners, for sure. There's a connection with us that just works."
For the 4th album cycle in a row, DEATH ANGEL returned to their producer and friend Jason Suecof of Audiohammer Studios for the recording and mixing, along with the mastering of the legendary Ted Jensen of Sterling Sound who added the final touches and brought it all to life. Working closely with Jason throughout every step of it, the band is able to make sure that the finalizing of the music's sound is closely intertwined with every idea that went into its genesis. "We love the sound he gets. With his style of production and our organic style of thrash... that marriage [is] visceral. He's very contemporary, but still raw," explains Osegueda, and "he pulls the heavy out," Cavestany affirms.
As usual, DEATH ANGEL has maintained their throne in the universe of thrash while still managing to remain progressive in their style. They apply a wide variety of different elements to their music, always pushing to add newness to their sound. This time around they've included everything from acoustic bits, to guest musicians, to even (for the first time) the notes of a piano. All 10 songs flow seamlessly yet each leaves its own distinct impression. The first single and title track 'Humanicide' triumphantly represents the entirety of the album, immediately energizing the listener. Osegueda remarks: "I wanted to write something that metal fans could really grasp onto. Something dark and intense, that still makes sense. Right now I think it's so apparent that the earth is in a sickened state."
The track entitled 'The Pack' flows through with an uplifting mood. Its positive lyrics are a tribute to DEATH ANGEL fans everywhere. With a loyal fan club of the same name, Cavestany thought it was important to write a song not just for their fans, but for heavy metal and music lovers the worldover. "The song has a very anthemic feel, it's a fist pumping-festival type of vibe," Cavestany explains. DEATH ANGEL, like any artist, are a creative entity with their own particular place in the world, but one of the most momentous influences behind it all is the love and admiration they carry for their fans.
To round it all out the band reflects some of their many inspirations in songs like 'I Came For Blood.' Its thrashy, punky, rock 'n' roll type of vibe keeps the album's invincible energy on path to an insanely enjoyable cycle of music. Osegueda explains: "It's about the power of music and how the right something gives you that feel; that me against the world ideal. You have to be willing to fight for your beliefs, and take no prisoners when pursuing your dreams!"
To say 'being busy' is in DEATH ANGEL's future is a grand understatement. With over three decades invested in their substantial career, the band is ripe with vigor and ready to perform their new offerings to the world. North American tours, European tours and festivals, and eventually more records are assured, with the loyalty and solidity of their pack truly unwavering. DEATH ANGEL designed »Humanicide« not just for listening pleasure but to awaken the mind and fuel positive ideals. In a world where societal pain is often times too great to stand, the most potent defense we have is to hold fast to our convictions, defend the weak, and open our minds to sensibilities that will be the true key to our survival in this era of the damned.